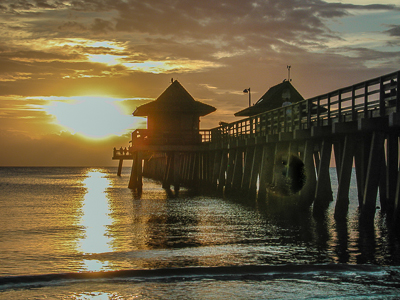 View All Moorings Listings
Amenities:

Beach

Boating

Golf Course

Walk/Bike
The Moorings Real Estate Homes Condos for Sale
The Moorings Real Estate Homes Condos for Sale was originally developed by Milton Link in the 1950's. Residents now reap the benefit of his care and attention to detail within this community. Gracefully curved roads, shaded by the green arch of banyan trees. Large lots situated along deep canals and bays or with views of the Mooring Country Club's golf course. Some homes and condominiums claim beachfront locations with views of the Gulf of Mexico
The white sand and blue water of the Gulf beach is just a short distance from any home, where the community has its own private beach park. Moorings Beach Park is used by residents to play, relax and hold neighborhood events hosted by the Mooring Property Owners Association. The natural beauty has made the park a popular setting for gorgeous outdoor weddings.
Moorings Country Club offers resident members a private golf course within the community. You will find dining in a casual or elegant atmosphere. Golfers love the course and bridge, mah jongg or bocce appeal to players of a different kind. You'll be at the club often for the live entertainment and other special.
Olde Naples is practically in your own back yard. The 5th Ave and 3rd Street areas are vibrant destinations with everything from quirky boutiques and unique dining experiences to upscale retail shops, antiques, art galleries, sophisticated cultural events and entertainment of all kinds.
The Moorings Real Estate Homes Condos for Sale
Home choices suit a range of needs and lifestyles. You'll find comfortable mid- and high-rise condos, impressive villas and magnificent gulf front penthouses; many have boat docks and facilities. The new construction includes single family homes; there are no current plans for additional condos to be constructed.
Homes range from fine family homes, well designed and appointed to spectacular custom estates with every feature and detail any homeowner could imagine. Lushly landscaped outdoor living spaces may include pools and spas, gourmet outdoor kitchens, covered dining or conversation areas or screened lanais. Single family homes may have docks and boat facilities.
The Location
From U.S. 41 just north of Golden Gate Pkwy Moorings Line Dr begins and meanders west through the heart of The Moorings over the bridge at the north end of Hurricane Harbor until it meets up with Gulf Shore Blvd N. Pass the Edgewater Beach Hotel on your way to The Moorings private beach park and convenient shopping and dining at the Charleston Square Plaza and Condominiums. The Coastland Center Shopping Mall is at U.S 41 and Golden Gate Pkwy and across the street is Naples Plaza with Naples first super Publix.