Southwest Florida is tops in job growth and housing growth
Posted: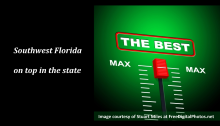 Southwest Florida is tops in job growth and housing growth
Two new unrelated reports released last week from Florida TaxWatch and Florida REALTORS® revealed southwest Florida's economic leadership for job growth and housing growth.
There are 20 metro areas tracked in Florida and the reports show the Naples-Marco area leading the pack of 20 with the Cape Coral-Fort Myers area close behind. The U.S. Census defines the Naples-Marco metropolitan area as Collier county and surrounding communities for the most part.
Florida Tax Watch believes that SWFL is very friendly to business and based on data from IHS Global Insight it predicts Naples-Marco would top the state's growth rate at 4.7% in 2015. Cape Coral-Fort Myers close behind at 4.3% growth just after two other metro regions. Florida TaxWatch is a nonpartisan, nonprofit tax research group.
Finally, Florida TaxWatch is looking to the Cape Corl-Fort Myers region to have the country's most vibrant job growth in the first quarter of 2015.
Median housing prices in the two neighboring metro regions have soared according to the Florida REALTORS trade group. The Naples-Marco market posted a whopping 16.6% increase while the Cape Coral-Fort Myers region posted a very healthy gain of 15% from November 2013 to November of 2014.
The median price of a home in Naples-Marco region is now $338,000 up from $289,900 and in the Cape Coral-Fort Myers regions it is $176,000 up from $170,000.
Factors fueling the growth are: fewer foreclosures, lower gas prices, and strong job growth with construction leading the way according to the TaxWatch report. More people are moving into the area creating a demand for more services and products.
The rapidly decreasing inventory of resale homes, especially in the lower price categories, is forcing buyers to move quickly according to the chief economist for Florida REALTORS.

Originally reported by June Fletcher in the Naples Daily News January 7, 2015
Image courtesy of Stuart Miles at FreeDigitalPhotos.net