Five Ways to Boost the Resale Value of Your Home
Posted: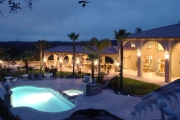 Add 12% to the value of your home*
Start with a no obligation free home evaluation
A report – Top 5 ways to boost the value of your home – by a well known consumer's group, Consumer Reports, and posted online at consumerreports.org cited the National Association of Realtors expectation that 5.3 million homes will change hands in 2015. Some neighborhoods show house values to now exceed pre-2008 valuations.
The housing market is on a roll right now fueled by continued low interest rates, demand, and the rising cost of new construction homes.
Some 300 plus Realtors were surveyed regarding advice to sellers to improve price and reduce time on market and this combined with Consumer Reports product knowledge, a most useful list emerges including how much improvements are likely to cost and the return you're likely to realize.
Five ways, here we go…
De-clutter
Cost: $0 to $2,500
Potential return: 3 to 5% (based on median asking price of $205,000)
Drive buyers away with clutter, dirt and grime, and obnoxious smells. Bruce Irving, real estate agent based in Cambridge, Mass., tells clients to imagine their boss is coming to dinner with his or her spouse. "Your home should be at least that nice on the day of any open house," he says.
Help buyers imagine themselves living in your home. You should make that easy without constant reminders that it is your home and not theirs, yet. How? Put away all family photos and other personal items.
Kitchen
Cost: $300 to $5,000
Potential Return: 3 to 7%
Kitchens and bathrooms sell homes. Smart money versus full bulldoze renovations can provide returns to the seller. Replace the noisey disposal, repair the leaking faucet, and other obvious ailments. The kitchen benefits much from decluttering the counter top. Buyers want to see lots of counter space so put away all those small appliances you don't use every day. Get rid of all those magnet things plastered all over the refrigerator.
Scrub the cabinets clean and maybe some new updated hardware. A spiffy new backsplash is not that costly and will make a world of difference. If the kitchen is sorely in need of updating and you plan to be in the home for a bit make some improvements now and enjoy them. A suite of new appliances can be had for $2,200 can bring $2,000 – $6,000 in return. Buyers, when stretching their budget, don't want to worry about a major repair or replacement shortly after moving in.
Baths
Cost: $300 to $1,000
Potential Return: 2 to 3%
Kitchens and bathrooms sell homes. The bathrooms need to be sparkling clean. Fresh clean caulking and regouting the tile goes a long way. It will also eliminate negative comments on the home inspection report regarding caulking and potential leaks if it is not perfect. New faucets and light fixture will complete the picture.
If you will be in the home awhile, consider a new vanity and floor.
Paint where needed
Cost: $100 to $1,000
Potential Return: 1 to 3%
Kitchens and bathrooms benefit quite a bit especially if they are covered with 10-year old wallpaper. Go white neutral beiges and white trim. Think of the last model home you visited.
Absolutely paint any room that is painted in any color from the rainbow.
Exterior
Cost: $150 to $7,000
Potential Return: 2 to 5%
When the buyer drives up to your home, the first imprssion just happened. Repair anything that is in need – door bell buttons, fixtures, cracked siding, mold/mildew, rotted facia boards, and landscaping. At least remove the dead plants and shrubs if not replace them and put down some fresh mulch.
Put a fresh coat of paint on the front door and trim and thoroughly clean up the front door area. This is a great place for color from potted plants or nearby shrubs.
Start with a no obligation free home evaluation
* from Top 5 ways to boost the value of your home