Don't Forget the PIZZA oven for the outdoor kitchen
Posted: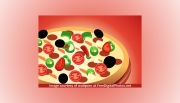 Outdoor kitchens' popularity grows
LAS VEGAS – Jan. 26, 2015 – A new survey released at the 2015 International Builders' Show attempted to define what consumers want in outdoor kitchens.
Dave Brown, a partner with Chicago-based ad firm HY Connect, surveyed consumers who have, or would like to have, outdoor kitchens in their homes. The study, which surveyed households making $150,000 or more in household income across the United States, was conducted in December.
A growing market
While only 4 percent of affluent households currently have outdoor kitchens, 13.6 percent say they're planning to add one in 2014. Brown says that the largest age group hoping to incorporate them is between the ages of 45 and 54, and more likely to have children in the home. "These are active households," Brown says. "They're doing stuff."
The difference between indoor and outdoor
Indoor kitchen amenities don't necessarily translate to an outdoor cooking space. "Outdoors is all about socializing … it is all about having fun and a great experience," Brown says, noting that adequate seating space is one place where homeowners tend to underestimate. Also, "storage in the indoor kitchen is huge [but] in terms of the outdoors, food prep becomes more important."
Unexpected features top favorites lists
It may not be surprising that survey respondents consistently rated the outdoor kitchen as their favorite room in the house. However, their favorite features weren't the traditional items seen in most outdoor entertainment areas.
The No. 1 item that current owners of outdoor kitchen regretted leaving out was a pizza oven. "What's loved the most is what's unique. Fountains, fireplaces, pools," Brown says. He adds that his backyard pizza oven serves as a gathering place for guests to participate in the food prep process. "It's what I call 'kitchen karaoke.'"
Integration is key
Brown says that many homeowners start small with the intention of adding on features later. But he notes that the most successful, best-loved outdoor kitchens tend to occur when the design process is holistic.
"It feels like an entire outdoor room where I can have an event and not just a bunch of stuff stuck outside," Brown says.
Source: Meg White, Realtor® Magazine
© 2015 Florida Realtors®
Image courtesy of watiporn at FreeDigitalPhotos.net