Now that you're here let me share some things about myself so that you will feel confident that I am the right person to help with your Naples FL luxury real estate needs. I specialize also in Estero, FL real estate, Bonita Springs FL real estate and  south Fort Myers real estate.
Bob earned his real estate Sales Associate license in 2005 and his real estate Broker license in 2017.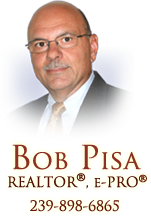 I settled in southwest Florida after spending a long time in the northeast – New York and Boston mostly (the last 20 years in Andover, MA) and a few years in Toronto, Ontario – now, southwest Florida is home. The climate, recreation, and outdoor living offered here is second to none and it made the decision to relocate an easy one. My passion for this part of the country and this part of Florida, in particular, is important for real estate clients as this is what drives me to find the perfect home for you so you will experience the same as I do. If you are considering selling you home my passion for this area allows me to represent your property to the fullest to prospective buyers.
Beyond my passion for the area is my passion to succeed. Success is met by fulfilling your needs through commitment, service, and your ultimate satisfaction whether you choose Naples, Bonita Springs, Estero, or Fort Myers – the Southwest Florida Paradise Coast!
Southwest Florida is home to many seasonal part-time residents, and year-round residents like me. This requires knowledge of the needs for seasonal residents and the ability to work with clients "long distance". Year-round residents often have similar requirements but they are not necessarily the same. Understanding your needs, providing information, communicating, and helping you make choices is what I do.
I have experience with complicated multi-party negotiations involving small to multi-million dollar deals. You will feel comfortable and confident through trust that will develop quickly with a new found relationship.
Call or send me an e-mail and I am pleased to answer your questions and provide information to you about Naples real estate including Bonita Springs, Estero, and Fort Myers.
So important in real estate today is the internet This is why, in 2007, I earned the National Association of Realtors e-PRO Technology Certification. This designation is awarded to those who demonstrate skills and competence using the internet for real estate – a Certified Internet Real Estate Specialist.
Confused about association rules, regulations, and fees? I am the former President of the Santa Lucia Homeowners Association in Grandezza and the former Vice President of the Grandezza Master Property Owners Association.
Bob Pisa
(239) 898-6865 (Mobile direct)
 Gulfshore Magazine's customer choice customer satisfaction award.
Eight Years running … 2010 – 2017

…